CompTIA Security+ SY0-601 Practice Test
Coupon code 10off gets you $10.00 off the regular price in the cart. This brings your Security+ Certification Bundle to just $99.00
for over 550 questions!
The CertBlaster® CompTIA Security+ SY0-601 Practice Tests and Exam Simulator help you prepare for CompTIA's Security+ SY0-601 exam. With over 550 practice questions similar to the ones on the actual exam, this is one of the most comprehensive and complete CompTIA Security+ practice tests offered. No legitimate practice test provider has more Security+ questions than the CertBlaster CompTIA Security+ practice tests.
"I would recommend CertBlaster to anyone regardless of experience in the IT field. The simulations were very well done and informative, having questions and answers with explanations was a great way to study and catch up on new or old material. Customer service was great, very responsive, providing extra materials and helpful."
Mike Miller, successful on his first try
What is Included in the Security+ Exam Simulator?
"The CertBlaster Security+ I purchased helped me hand over fist to excel on the exam. Coupled with a book for concept comprehension, the drills and the exams easily helped give me a passing score. I will always keep CertBlaster as a reference for future I.T. certs!"
James Savary.
550+ Practice questions, answers, and explanations including performance-based and in-simulator questions
Periodic updates: To keep the content up to date and in sync with the very latest question banks we do quarterly updates that are propagated to your CertBlaster live and in real-time.
4 Full Exam Simulations – Same number of questions and same timer as the actual exam
5 Focus Drills – Each Drill corresponds to one of the six CompTIA Main Domains for this exam
3 User modes: Assessment, Study, and Certification
Your custom Personal Testing Plan (PTP) generated for each practice exam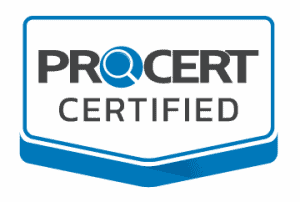 Gives you an overall grade and grades per exam objective
100% Online, no software installation required.
2 Year Software License: Unlimited number of devices (one at a time), retries, repeats, and custom reports.
This is what GoCertify says about our CertBlaster for Security+:
"The actual Security+ exam has a mere 90 questions, but CertBlaster will firehose cybersecurity knowledge into your noggin with more 400 practice questions, including scenario- and performance-based questions that simulate actual security tasks and situations." Full review by GoCertify.com.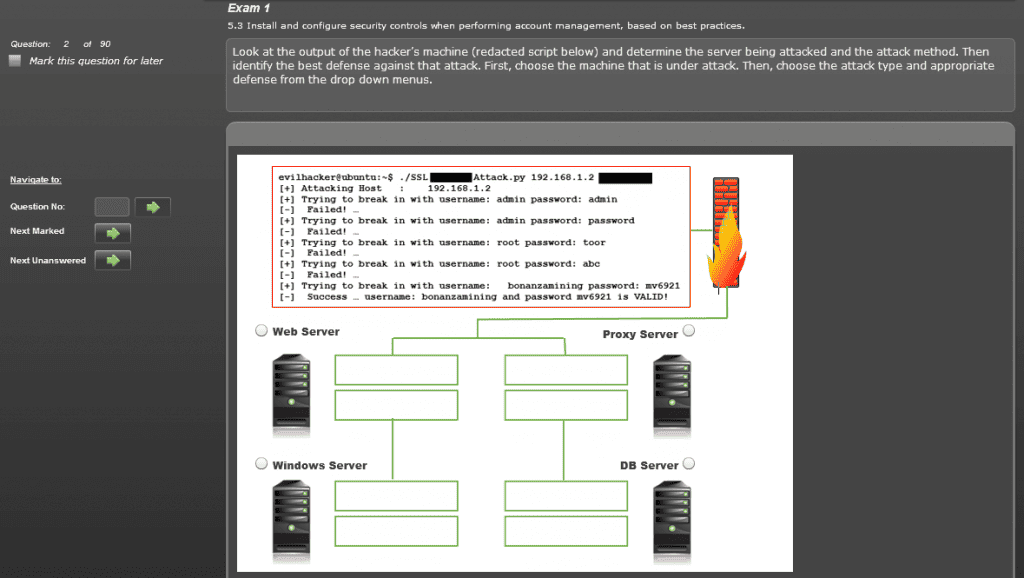 Security+ SY0-601 Exam Objectives
The main objectives, as defined by CompTIA for the Security+ SY0-601 exam are listed in the below table. CompTIA has weighted the Security+ SY0-601 Exam Objectives as follows:
Domain Percentage of Examination
| Domain | % of Examination |
| --- | --- |
| 1.0 Attacks, Threats, and Vulnerabilities | 24% |
| 2.0 Architecture and Design | 21% |
| 3.0 Implementation | 25% |
| 4.0 Operations and Incident Response | 16% |
| 5.0 Governance, Risk, and Compliance | 14% |
| | |
| Total | 100% |
Why should you care? Because it reveals the approximate number of questions you will be facing on exam day. Knowing that the total number of questions on the exam is 90, you can deduce that Technologies and Tools will include about 20 questions, Cryptography and PKI about 11 questions, etc.
With CertBlaster you will be ready! Our practice tests will ensure you are ready for success at your Security+ exam. They include all question types you will face at the exam including the in-simulator Performance-Based questions.
Why Choose CertBlaster?
Because we have exceptionally comprehensive practice tests: Over 450 questions!
Because you get 4 complete exam simulations plus 6 Domain Drills (one for each exam objective).
Because we offer you a First Try Guarantee of success at the exam.
Because our test engine is modeled after CompTIA – you will be ready for the exam: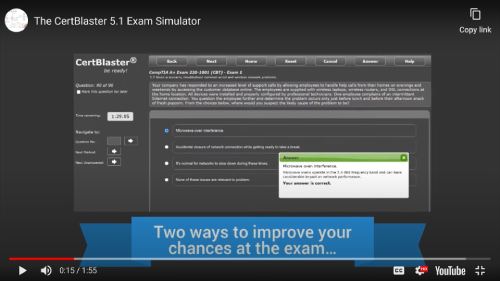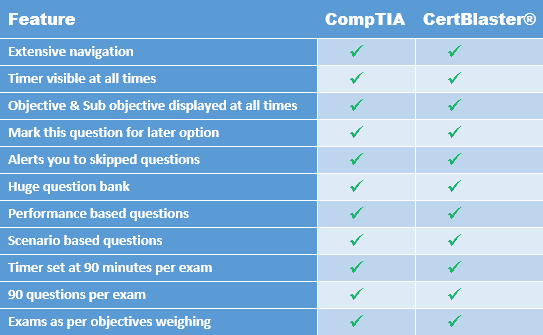 About the Security+ Credential
The Security+ credential is approved by the U.S. Dept. of Defense to meet Information Assurance (IA) technical and management certification requirements. It has been selected by the staff recruiters at Hitachi Information Systems (Japan) and many U.S. government contractors such as Computer Sciences Corporation (CSC), General Dynamics and Northrop Grumman, and many more. Typical job titles for Security+ certified professionals are Security Engineer, Security Consultant, Network Administrator, and Information Assurance (IA) Technician or Manager.
Good to Know about CompTIA Recertification:
CompTIA A+, Network+, and Security+ certifications will be valid for three years from the date the candidate is certified. After the three years renewal will be required although there are a few ways around this. Instead of re-certifying, you can earn CEUs and some other certifications, would you take them, can alleviate the need to re-certify, for more on this, go to CompTIA. A huge exception to this policy is candidates who certified prior to January 1, 2011. If you did, you are certified for life!
Get your CertBlaster® Immediately
Because CertBlaster® is 100% delivered online, you can access the practice test immediately from any Windows PC or Mac. There is no legacy software to download, no installation, and you always have the latest and greatest version of the tests as they are regularly updated and upgraded online.